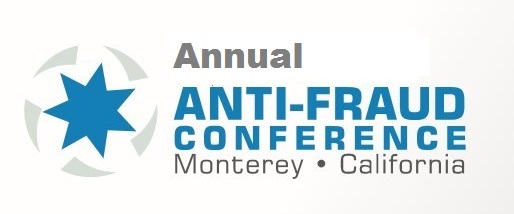 We have finalized the sessions and speakers for the upcoming 30th Annual Anti-Fraud Conference in Monterey, CA. Below is the list of classes being offered at this time:
Medical Coding
Surgical Hardware Case Study
Basic Fire Investigations
Deposition Tactics for Workers' Compensation Claimants and Medical Providers
Building a Solid Premium Fraud Case
Pharmacy Fraud Schemes
Updates on Vehicle Infotainment Systems
Exploring the Legal Remedies Available in Kickback and Referral Schemes
Civil Defense Tactics – Post the Pebley Decision
New and Emerging Auto Body Scams
Supplemental Job Displacement Benefit Fraud
Legal Ethics
Street Safety for the SIU Field Investigator
Investigating QME Management Companies
Fraud involving Additional Living Expense payments
Investigation of Drug Rehabilitation Centers
Interpreting Company Kickback Case Study
From Detection to Conviction: Key Issues and Ethics Hypotheticals
And others…..
In addition to the breakout sessions, we are excited to announce that Jennifer Lentz Snyder from the Los Angeles County District Attorney's Office, Healthcare Insurance Fraud Division will be conducting a General Session on Assembling a Compelling Case.  Coalition Against Insurance Fraud Executive Director, Dennis Jay  will be providing Legal and Industry Updates pertaining to the continued fight against insurance fraud. Joe Stephenson, Managing Director of SIU with Hagerty Insurance Company and Dr. J. Michael Skiba, MBA, PhD will be presenting an update on Social Media Resources and Investigation Techniques.
Please check back for the final list of sessions, speakers and schedule.
* SESSIONS ARE SUBJECT TO CHANGE
PHOTOGRAPHY/VIDEO/AUDIO RECORDING POLICY
The Annual Anti-Fraud Conference's goal is to facilitate networking and to provide excellent education for anti-fraud professionals, including investigators, prosecutors, insurance personnel, and civil attorneys who investigate or prosecute fraud and related matters.  To foster an environment conducive to this goal, and to protect the proprietary rights and interests of the speakers, all audio and video recordings are strictly prohibited during all general and break-out sessions of the Conference, without the prior express written permission of the speaker(s).  The Conference or speaker reserves the right to restrict an attendee from attending further sessions or related events.     

UP